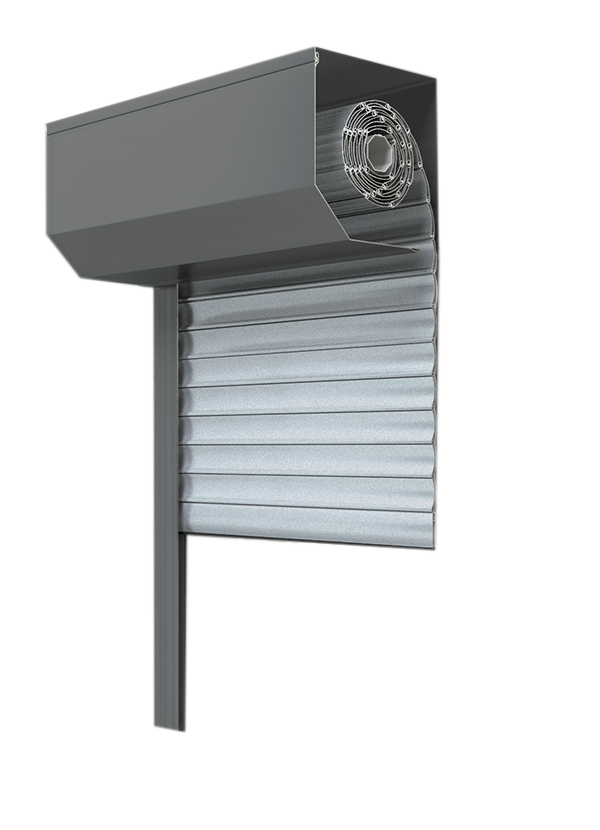 Dimensions
maximum width: 600 cm
maximum height: 500 cm
Box and guide rails colours
silver (standard)
white (standard)
dark chocolate (standard)
RAL (surcharge)
Slat colours
silver (standard)
white (standard)
dark chocolate (standard)
anthracite (standard)
light and dark wood tone (standard)
golden oak (standard)
Roller garage doors take up little space and can be fitted into practically any opening, regardless of its size. They are made of high quality ALU materials, and can be installed on the inside or outside of the opening. The slats are filled with polyurethane foam and are available in two slat widths, ALU 55 and ALU 77. The door slats are available in 6 standard colours, you can even choose to combine them. Available is also the option to install see-thru vision slats and perforated ventilation slats.
Roller garage doors come with a motor as standard and can be operated remotely or using a switch.
As an extra protection against burglary, there is the option to add a special locking mechanism that prevents slats to be pulled out of the guide rails. This is also perfect for areas with frequent strong wind gusts. The doors cannot be unbolted as they have two-piece side channels (where all the cables are routed) and the screws are hidden.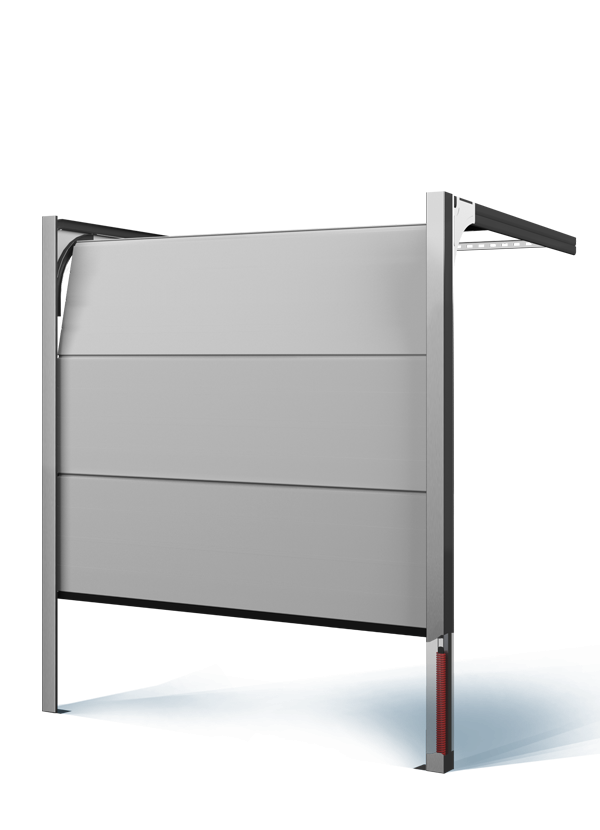 Dimensions
Maximum width: 600 cm
Maximum height: 500 cm
Box and guide rails colours
silver (standard)
white (standard)
dark chocolate (standard)
RAL (surcharge)
Slat colours
wood decor (standard)
RAL (standard)
Optimal space utilisation is particularly important in low-rise garages - that's why sectional garage doors are the perfect choice. The panels are run vertically on rails and are stowed under the ceiling when the door is open. This means there is no loss of space in front of the garage. The panels are lifted by coil suspension, and the bearings at the fold of the panels make the door movements quiet and smooth.
The sectional door segments consist of 4 cm thick galvanised steel sheet filled with polyurethane. This gives the door good thermal and acoustic insulation. The visible part of the sheet is powder-coated, ensuring the paint lasts longer. Different panel colours and patterns give you the option to change the look of your home.
You can choose from:
Smooth panels
Corrugated panels
Faux wood-look
For greater convenience, there is the option of installing a low threshold pedestrian door already from a minimum opening height of 190 cm. You can determine the direction of opening and the position of the walk-thru door. The door wing closes by a sliding self-closing mechanism; handle and lock included. The low threshold (2 cm) is made of stainless steel material.
The outer aluminium trim always comes in the colour of the door or in the best approximation thereof. The usefulness of such pedestrian doors is that they make the access to your garage easier, particularly if you visit it frequently, while keeping the appearance of the door consistent.
The door can be operated with a multi-channel remote control or via a wall switch. The motor automatically stops if the door hits an obstacle.